For this blog post, I'm going to talk about one of my best boys, Impey Barbicane who not only is hilarious as hell, he's ultimately the character that I feel could be my best friend in real life; regardless that he can't really flirt properly. While I felt that in his route for Code: Realize was lacking in a lot of aspects, I felt that the writers were using up his comedic personality to fill in certain gaps.
Usually, I don't condone that kind of storytelling faux-pas since it deteriorates the engagement of the readers when you put in fodder versus complexity. However, Otomate created a character who is undeniably strong in his own birthright and challenges comedy, intellect, and romance all in one graceful swoop. While the storytellers failed to deliver a strong emphasis on his storyline, you can't deny that they did extremely well with showing his character.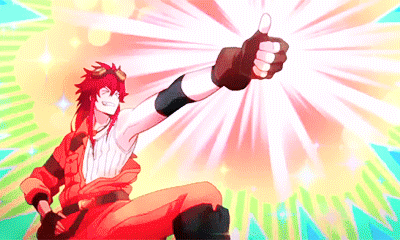 .・゜-: ✧ :-  -: ✧ :-゜・..・゜-: ✧ :-  -: ✧ :-゜・..・゜-: ✧ :-  -: ✧ :-゜・..・゜-: ✧ :
Assessing Impey Barbicane
The funniest otome character I've encountered in my travels through the gaming world is Impey Barbicane of Code: Realize, sure, he's the funny and flirty character out of the Lupin gang. however, don't be fooled by his comedic antics and failed attempts at wooing the MC, he's actually a serious guy with a sensitive heart. When we first meet Impey it's after the rescue of the MC from her family home in Wales, and the steam-powered automobile that's supposed to get you to London… blows a gasket somewhere and causes a bit of a stir.
His entrance isn't the most flashy like Lupin, Van, or Victor's introductions were, but you best believe he was still very impressionable with his pick up lines. The engineer of the group is one of the best guys to still fall for in the game, and I'm possibly biased as his voice actor is one of my favorite seijyuus, Shotaro Morikubo. For people who aren't familiar with this man, his most notable acting skills have been portrayed in the most well-known series produced by Atlus, Persona 4 as Yosuke Hanamura, and also Soji Okita from Hakuoki.
This slideshow requires JavaScript.
I'm in love with the goofiness that was captured just for this character, and most gamers can either agree to either hate or love him. He is an acquired taste with his over the top sexual flirtation moments, but he has his moments that you can't help but watch his side profile as he looks up at the stars and tells you a part of his past that you wouldn't have even known about. Besides being the butt of insults and jokes aside…
The man can be serious when push comes to shove, and when you see his unbridled passion for the love of science, you can't help but be pulled into his energy. To be honest, he reminds me a little of Spongebob from the broadway show where they sing 'Hero is My Middle Name.' He's a very optimistic character, but he will show his times of weakness to the heroine when you choose to pursue him.
He's a super-intelligent even though he doesn't seem like the brightest bulb, did I mention he's not bad to look at when he's serious about his work and inventing items that actually don't explode. There are moments in the game I do feel bad for him when everyone gangs up on him for certain things but he takes the jokes and u=insults with stride, and lets it slide off his back like water off a bird's wings.
Speaking of water rolling off his back… I did state he's pretty hot when he's not being a complete dork about stuff. It's moments like the one from above that when you see his intentions about his passions towards inventing and engineering machinations for science. Like, damn boy, you've definitely got me in the ringer for having a best friend crush on you… Until he starts flirting over the top and make obscene moves to show his affections. However, you can't hate his integrity to pursue the MC throughout the game even though his heart gets broken a few times in the game. (technically everyone gets their heartbroken since we all know the true route is Lupin's gameplay)
Although I've mentioned he's the funniest character I've met, he's also insanely talented as a chef that I wished Otomate allowed him to have a side story of cooking recipes as my hobby is cooking and baking. I would like to learn some tips and tricks on how he cooks a couple of things and also bake those famed cookies and sweets I see every now and then in the side stories.
The other added element to his character that I find fairly entertaining and funny, is that animals tend to mark him as a dangerous person (which, he is in a certain way…). You can't help but laugh when he's about to get some love and affection from the MC and Sisi (the resident Corgi) butts in and bites his leg. I'm sorry, I feel bad but at the same time I couldn't help but laugh so hard about this scenario–it's just beyond comical.
【☆】★【☆】★【☆】★【☆】★【☆】【☆】★【☆】★【☆】★【☆】★【☆】【☆】★【☆】
Falling in Love with Impey Barbicane
There's a lot to say about how charismatic and energetic this man is, and because of his infectious way of humor and antics even I can't help but love the funny man. Which we all know, I usually don't fall for the funny guy very often, but Impey is another one of those rare birds that can attract my attention. He's not a real smooth talker, we can all vouch for that but he makes up for his incorrigible deviant moments with his charming sensitivity to read other's emotions.
It may not look like it, but when he falls in love he is doting as he is kind. Those tender moments when he isn't being a Class A–Immoral Womanizer (LOL), he shows his love by gestures of more 'showing' and less 'telling' of his admiration for you. I feel he can be overlooked at times because he's such a different person compared to the other characters of the game. However, I think in a way it's good he's overlooked until the very end because he can suddenly surprise the reader with his true nature.
I've spoken relatively about his serious outlook about his work and how he does more than his best to improve inventions and gadgets to help the crew. To some, this passion may not be attractive, but to me it is. Impey shows heart in believing in dreams and enduring criticism from many, but he doesn't let those words stop him from pursuing his dreams. Working tirelessly into the late evenings to perfect his plans and help out the gang, it's amazing that he takes time to stop his work to sit and talk with you open-heartedly.
Ugh, passionate people always pique my interest, when you can be that devoted to your craft it lets me as a gamer/reader/overall as a person, know what kind of person you are. It takes integrity and courage to face inner demons and outside critics to go for your dreams, and Impey, no doubt leads the revolution with his outgoing and outspoken ways of expressing himself.
What I feel we learn from him as a character is hard work, passion, dreaming, and believing in the impossible regardless of what people say. Yes, he is a funny character, but he's much more than that if you give him that chance. If you want to see a better story about him versus his original Code: Realize story. I recommend his Code: Realize ~Wintertide Blessings~ story as it gives a little more depth to what was missing in his storytelling in the original game, and it portrays the emotions I was hoping to get out of him in the true storyline.
As I wrap up this character analysis/favorite funny guy blog, I find myself looking at Impey with nothing but heartwarming feelings and love for the man. I may not see a lot of rave reviews about him, but I feel if you need a route that'll make you cry tears of laughter while teaching you to never give up on your dreams. Impey Barbicane is the funny man for you, whether you see him as boyfriend material or your best bud, he's definitely one of the memorable characters of fun in the otome world.
Who's the Funniest Game Character You've Read/Played? Let me know your thoughts!
。☆✼★━━━━━━━━━━━━★✼☆。